Over the years I've written both nonfiction books and novels. Now that I'm firmly encamped on the fiction side — and working on Book 2 of my high-tech thriller series — I thought I'd spend a little time sharing some of the writing resources that I've found especially valuable along the way.
INDIE AUTHORS
One author's self-publishing journey
The books below cover such things as plot, theme, story structure, character development, payoffs, etc., but they also delve deep into topics such as finding great novel ideas, writing faux pas and how to keep the creative juices flowing.
Remember: Read a lot of books in your space. Ignore the advice of those who say they don't want anyone to influence their writing. Reading others' works will help educate you about readers' expectations, genre tropes and what works and what doesn't. Just make sure you're reading some of the better writers in your genre.
So read away and then dive into some of these titles. Even if you're a veteran writer or published author, you can always pick up a few new tricks. I'm sure every writer's list would be different. Here's my list of 10 books to bring your fiction writing to the next level.
How to Write a Damn Good Novel
1I've read lots of advice to begin with Stephen King's On Writing. That's not bad advice, there's lots of wisdom in King's entertaining and personable missive. But it's certainly not a how-to book about the nuts and bolts of fiction writing.
For that, I suggest you begin with James Frey's How to Write a Damn Good Novel.
Frey, who was my instructor at the Squaw Valley Community of Writers back in the day, appeared last month here in Pleasanton, Calif., at the Tri-Valley Writers monthly meetup. In "How to Write …," he explores such subjects as point of view, escalating narrative tension, conflict in dialogue and other indispensable tricks of the trade.
Also check out his sequels, How to Write a Damn Good Novel, II and How to Write a Damn Good Thriller. He's now working on "How to Write a Damn Good Romance."
---

Bird by Bird
2Anne Lamott's Bird by Bird is the best book on writing I've ever read, period. I still recite the advice I heard Lamott give at a writers' conference: "Write shitty first drafts!" Don't get stuck in your take-it-slow second gear of editing when you should be in your wild, creative mind getting the first draft down on paper (um, in pixels).
"Bird by Bird" is not a by-the-numbers primer for new writers about inside secrets of the craft. It's a joyous reminder that you need to go deep, explore your characters' motivations and try to take your readers on an emotional journey of discovery. It reminds us of why we're writers.
---
The Story Grid
3I was skeptical at first of Shawn Coyne's The Story Grid, and to be sure it's dense and somewhat forbidding to penetrate. But damn if its lessons aren't timeless and essential. Coyne explores the importance of novel structure, of outlining (and every novel needs at least a rudimentary outline) and of traditional genre conventions, all of which will help you forge ahead the next time you hit the dreaded wall of writers' block.
---

Two from Joseph Campbell
4I still remember those old Bill Moyer interviews with Joseph Campbell on PBS talking about the storytelling traditions and hero archetypes that have been passed on from the time of the ancient Greeks to today. Campbell's classics The Hero With a Thousand Faces and The Power of Myth offer a great 50,000-foot-view to help you on your journey. From the intro to the latter title: "This extraordinary book reveals how the themes and symbols of ancient narratives continue to bring meaning to birth, death, love, and war. From stories of the gods and goddesses of ancient Greece and Rome to traditions of Buddhism, Hinduism and Christianity, a broad array of themes are considered that together identify the universality of human experience across time and culture."
---
The Elements of Fiction Writing
5When I switched from nonfiction to writing novels, I dove wholesale into every book that could help me make sense of this largely foreign terrain. I began with The Elements of Fiction Writing, a series from Writer's Digest Books. I recommend all of the titles in the series, including:
---
The Art & Craft of Novel Writing
6I was lucky enough to be able to take a workshop from novelist Oakley Hall during my time at Squaw Valley. Hall's The Art & Craft of Novel Writing is a classic, drawing upon such masters as John Steinbeck, Joyce Carol Oates, Leo Tolstoy, Agatha Christie and Milan Kundera. Hall's tome is less about the how-to's of genre writing and more about crafting a work that will stand the test of time.
---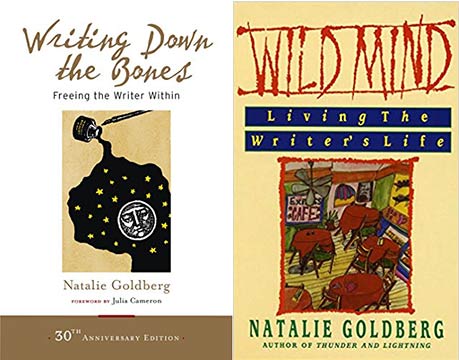 A double dose of Natalie Goldberg
7When you get stuck with your plotting, outlining and story structuring, you need to shift back into creative mode. You can't do better than pick up Natalie Goldberg's Writing Down the Bones or Wild Mind. I occasionally need a dose of animal spirit, positive energy and let-it-flow creativity, and Goldberg provides all three in spades.
---
The Complete Guide to Writing Fiction
8If you're confident in your writing and plotting and story structure and just need some guidance from top-name authors to set you on your course to the top of the best-seller lists, you can't do better than The Complete Guide to Writing Fiction by Barnaby Conrad and the staff of the Santa Barbara Writers' Conference. This oldie but goodie offers tips on a wide range of topics from such authors as Ray Bradbury, Jackie Collins, Harlan Ellison, John Hersey, Tony Hillerman, Sue Grafton, Elmore Leonard, Thomas McGuane, James Michener, Danielle Steel, Eudora Welty and others.
---
Two from K.M. Weiland
9The ever-present K.M. Weiland (she also hosts the Helping Writers Become Authors podcast) has a number of books useful to aspiring authors, including Creating Character Arcs (a subject other writing books often gloss over) and Structuring Your Novel, which offers a blueprint for such things as the book's opening hook, fixing saggy middles and achieving a satisfying resolution. Good stuff.
---
Write Great Fiction – Plot & Structure
10Rounding out our top 10 list is James Scott Bell's Write Great Fiction – Plot & Structure, a nice compendium of advice on brainstorming techniques, genre-specific story structure models, course correcting in the middle of a plot, and creating strong beginnings, middle and ends. Best of all, you can snag it now on Kindle for $1.20.
---
Honorable mentions
Other books that I've read long ago or heard good things about from fellow writers:
How about you? Which writing books have had the greatest influence on you?
In this series