Title: Breakthrough
Author: Michael C. Grumley
Pages: 322
My rating: ☆☆☆☆½
Release date: March 6, 2013 on Amazon
Ihave a break in my schedule, so I'm reviewing a number of suspense novels that I've been reading over the past year. I finally got to Michael C. Grumley's first entry in his four-part "Breakthrough" series.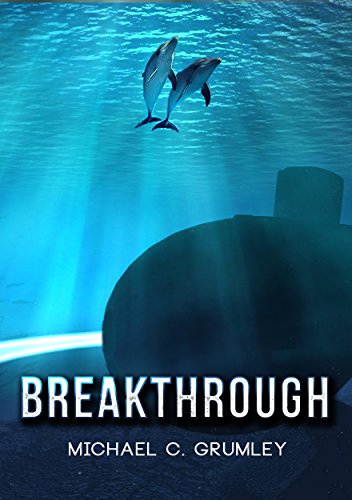 The novel — a mix of the sci-fi, thriller, speculative fiction and action-adventure genres — opens with a nuclear sub forced to abort its mission deep beneath the waters of the Caribbean. Events lead us to the doorstep of a group of marine biologists who are the verge of communicating with dolphins. The dolphins, Sally and Dirk, become key players in helping untangle a mystery involving a huge structure at the bottom of the sea.
Without giving away too many spoilers, suffice to say that we earthlings have company. If one can suspend disbelief about a few major plot strands — particularly the idea that an alien civilization would look identical to humans — and just focus on the story, it's a well-paced, rollicking tale that involves titanic not-so-natural disasters, dueling tsunamis, use of atomic weapons and a fair amount of conjecture about what it would be like to converse with other species.
The author, an IT professional in Northern California, is conversant with new technologies, and it shows. The writing is crisp and taut, and I'll be reading the other works in the series.