Articles
Book reviews
Engadget columns
Articles for magazines, newspapers & online publications
Online Journalism Review articles
Interviews
Parenting articles
J.D. was an editor at the Sacramento Bee for 11 years, has written articles about new technologies and culture for various publications, and headed up editorial teams at three startups. He now is co-founder of a new startup, Cruiseable. Also see books and reports and video interviews.
Book reviews & author Q&As
Review of 'Dot Complicated,' a guidepost for our social era
Socialmedia.biz, November 2013
Randi Zuckerberg offers advice on how to balance our personal and professional lives online.
Reviews of three books
Socialmedia.biz, July 2013
• Rob Fuggetta's "Brand Advocates"
• Paul Gillin's "Attack of the Customers"
• Brian Solis' "What's the Future of Business?"
Review of 'Your Network Is Your Net Worth'
Socialmedia.biz, July 2013
Porter Gale on how social networking can accelerate your career.
8 books for your 2011 Summer Reading List
Socialmedia.biz, June 2011
• Siva Vaidhyanathan's "The Googlization of Everything"
• Dave Awl's "Facebook Me!"
• "A Guide to Open Innovation and Crowdsourcing" (Paul Sloane, editor)
• Geoff Livingston's "Welcome to the Fifth Estate"
• Tammi DeVille's "Changing the World on a Tuesday Night"
• David J. Neff and Randal C. Moss's "The Future of Nonprofits"
• Chris Fehily's "Cancel Cable"
• Dan Pallotta's "Uncharitable"
'The Filter Bubble'
Review of the book by Eli Pariser.
Socialmedia.biz, May 2011
Reviews of two books: A new era in media
Socialmedia.biz, March 2011
• Steve Rosenbaum's "Curation Nation"
• Dan Gillmor's "Mediactive"
Review of 'Social Marketing to the Business Customer'
Socialmedia.biz, March 2011
Paul Gillin and Eric Schwartzman offer meaty, real-world examples of how to grow your business using B2B and B2C strategies and tactics.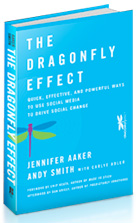 'Dragonfly Effect': Small acts create big change
Socialbrite.org, November 2010
Review of the new book on mobilizing social causes by Jennifer Aaker and Andy Smith
Reviews of five books
Socialmedia.biz, September 2010
• Clay Shirky's "Cog­ni­tive Sur­plus"
• Beth Kanter's "The Net­worked Non­profit"
• David Kirkpatrick's "The Face­book Effect"
• Jeff Saper­stein & Hunter Hast­ings' "Bust the Silos"
• John Hagel, John Seely Brown & Lang Davi­son's "The Power of Pull"
Review of 'Open Leadership': Winning by letting go
Socialmedia.biz, May 2010
Char­lene Li's lat­est look at social marketing is a wor­thy addi­tion to your busi­ness books shelf.
'WordPress in Depth' covers all the bases
Socialbrite.org, April 2010
This worthy guide will help you get acquainted with the wealth of options that WordPress and its open source-fueled developer community now offer.
5 questions for the author of Engage
Socialmedia.biz, March 2010
Brian Solis discusses his new book, social media and how the forces of influence are infiltrating the enterprise.
6 questions for the author of Be the Media
Socialmedia.biz, January 2010
David Mathison discusses his book and the elements of the personal media revolution.
5 questions for the author of Trust Agents
Socialmedia.biz, September 2009
Chris Brogan says the secret to his book was that he and co-author Julien Smith didn't write about social media, they wrote about how to be a human at a dis­tance.
7 questions for the author of Say Everything
Socialmedia.biz, August 2009
Scott Rosen­berg sketches his vision of blogosphere's impact on our culture.
5 questions for the author of Twitterville
Socialmedia.biz, August 2009
Shel Israel dis­cusses the impact of the real-time Web on soci­ety and business.
David Bollier's Viral Spiral
Socialmedia.biz, January 2009
For new­com­ers to the world of Web 2.0, the Long Tail and crowd­sourc­ing, Viral Spi­ral serves as an indis­pens­able primer.
Charlene Li & Josh Bernoff's Groundswell
Socialmedia.biz, December 2008
Dissecting the defin­i­tive guide to how busi­nesses are grap­pling with the social media rev­o­lu­tion.
Guy Kawasaki's Reality Check
Socialmedia.biz, December 2008
A real­ity check is exactly what the tech indus­try needs at this time of eco­nomic tur­moil, and Kawasaki pro­vides it in droves, spin­ning out bits of wis­dom gleaned from 20 years as an indus­try insider and ven­ture cap­i­tal­ist.
David Weinberger's Everything Is Miscellaneous
Socialmedia.biz, July 2007
Author Weinberger lays out a sort of epis­te­mol­ogy of the infor­ma­tion age, hold­ing up a lens to help us make sense of the new ways in which we are order­ing and clas­si­fy­ing the world around us.

Ray Kurzweil at Brainstorm: Tech.
Ray Kurzweil's The Singularity is Near
Socialmedia.biz, September 2005
The first posted review of the Kurzweil's look at the coming convergence of humans and artificial intelligence.
Dan Gillmor's We, the Media
Mindjack, August 2004
Charting the rise of citizens media.
Lawrence Lessig's Free Culture
Mindjack, April 2004
Exploring the clash between big media and digital culture.
Engadget columns
J.D. was a columnist for Engadget, the world's top online consumer electronics review site, from 2004 to 2005.
Paul Griffin: Griffin Technology
An interview with the CEO/founder of the inventive peripherals company Griffin Technology, including a discussion of Apple's dominance in the portable music market.
Christian Bubenheim: Magellan
August 2005
An interview with the vice president and general manager, Thales' Magellan Consumer Products Business, about portable GPS systems, how you use them in the wild, and how to find your car in Shea Stadium's parking lot.
Blake Krikorian: Slingbox
July 2005
An interview with the CEO of Sling Media about the rollout of the Slingbox, its disruptive effects on Hollywood business models, and the notions of place-shifting and personal broadcasting.
Jim Behrens: Orb Networks
June 2005
An interview with the CEO of Orb Networks about the growing importance of personal media, catching television on the road on nearly any device, and our networked, always-on, access-your-stuff-from-anywhere future.
Steve Heiner: Nikon
May 2005
An interview with the general manager, Digital SLR Systems, Nikon about how Nikon is faring in the transition to a digital world, its new line of D70S and D50 cameras, and the hullabaloo about Nikon's encrypting white balance metadata in RAW image files in some of its cameras.
Mike Foley: Bluetooth SIG
April 2005
An interview with the executive director of Bluetooth SIG about wireless headphones, hands-free phone gabbing, and what kinds of Bluetooth-enabled gadgets we'll be seeing in the years ahead.
Dave Ulmer: Motorola
April 2005
An interview with the head of Motorola Media Solutions about Motorola's upcoming release of iRadio and how the technology may forever change how we listen to radio.
Chris Gorog: Napster
March 2005
An interview with the CEO of Napster about why the original Napster kicked ass, whether it's better to rent or buy digital music, whether DRM still sucks, and when we'll see a true celestial jukebox.
Elliott Frutkin: Timetrax
February 2005
An interview with the CEO of Timetrax about the upstart startup's prospects, its diffident relationship with the RIAA, the future of music subscription services, and whether the recording of satellite transmissions will be outlawed.
Michael Malcolm: Kaleidescape
February 2005
An interview with the CEO and founder of Kaleidescape about the emerging video server category, the lawsuit brought by an overprotective industry group, and why their bare-bones product costs more than J.D.'s car.
John MacFarlane: Sonos
December 2004
An interview with the CEO of Sonos, Inc., about the company's soon-to-be-released digital music system, the state of home entertainment, and how to throw a wireless party.
Thomas J. Burick: White Box Robotics
November 2004
An interview with the CEO of White Box Robotics about robots coming down in price to the consumer level, how they will battle PCs for supremacy in the home, and why he didn't care for "I, Robot."
Niklas Zennström: Skype
November 2004
An interview with the co-founder and CEO of Skype about the future of voice communication, using Skype through wi-fi handhelds, and the coming death of the telecom dinosaurs.
Anthony Wood: Roku
October 2004
An interview with the founder and CEO of Roku, who discusses digital media, wireless music and DRM wackiness.
Mike Ramsay: TiVo
October 2004
An interview with the CEO of TiVo, about DVD recorders, government meddling in new technologies, and what the future of television holds.
Shahi Ghanem and Jordan Greenhall: DivXNetworks
September 2004
An interview with the president and CEO of the innovative 4-year-old San Diego startup DivXNetworks.
Hank Nothhaft: Danger, Inc.
September 2004
An interview with the CEO of Danger, Inc., maker of the new Sidekick II personal communicator.
Jack Valenti: MPAA
August 2004
An interview with Jack Valenti, the retiring CEO of the Motion Picture Association of America.
Magazines, newspapers & online publications
The Prince of Darknet
Legal Affairs, May 2005
Why is a trafficker in pirated movies sailing to Hollywood's rescue?
Supernova and the decentralized future
Mindjack, June 2004
Blogging, collaborative work tools and the drawbacks of social software took center stage at this year's Supernova.
A lockbox for digital radio
P2PNet.net, May 2004
The RIAA, the music business's trade and lobbying group, has asked the Federal Communications Commission to step in and impose an "audio broadcast flag" on certain forms of digital radio — restrictions that would permanently handcuff the new medium. Rewritten in condensed form for Mindjack: Will Digital Radio Be Napsterized?
The killing fields of copyright law
Mindjack, April 2004
A profile of Jed Horovitz and his documentary Willful Infringement, about his struggles with Disney over copyright laws, and other individuals who have run into similar problems in their creative pursuits.
Wine, Whimsy and Song
Tri-Valley Magazine, January 2004
An After Dark profile of the Little Valley Bistro and wine-tasting shop in Sunol, Calif. The article is republished here as three separate jpegs.
Arlen Ness, motorcycle legend
Tri-Valley Magazine, October 2003
Arlen Ness, a legend in motorcycle circles who started the customized motorcycle craze back in the '60s, is now a multimillionaire who built a 7,000-square foot motorcycle showroom in Dublin, Calif. I profile him in this three page spread (PDFs).
Blogs and journalism need each other
Harvard's Nieman Reports, Fall 2003
(still widely cited)
A look at the intersection between blogs and forward-looking journalism.
How blogging benefits media organizations
Harvard's Nieman Reports, Fall 2003
Sidebar to Blogs and journalism need each other.
The Promise of the Daily Me
August 2001
From fishWrap, PointCast and My Yahoo to bots, metabrowsers and wireless services, an in-depth look at personalization's uneven track record — and vast potential. Related: The Second Coming of Personalized News.
The Second Coming of Personalized News — The Washington Post and LA Times launch new personalization sites as the online news industry whistles a new tune: We just wanna hold your hand.
After Tasini: An online bonfire of the vanities?
Newspaper Association of America's Digital Edge, July 2001
Analysis: After the Supreme Court's Tasini ruling on online copyright infringement, publishers and database companies chart their next moves. Some, like the New York Times and Nexis Lexis, are already purging tens of thousands of freelance articles.
Blogging as a new form of journalism
May 2001
Blogs offer a vital, creative outlet for alternative voices. Interviews with three journalists who publish blogs: Deborah Branscum, Paul Andrews and Glenn Fleishman. This column was included in the anthology We've Got Blog: How Weblogs Are Changing Our Culture (Perseus Publishing, 2002).
Weblogs: A new source of news
May 2001
A look at amateur journalism and the increasing reliance that journalists will place upon expert bloggers as a source of news and information. Interviews with Dan Gillmor, Doc Searls and Dave Winer. Related: Blogging as a new form of journalism
Preventing content sites from being 'Napsterized'
Newspaper Association of America's Digital Edge, May 2001
A look at the new crop of digital rights management solutions now being adopted by news sites in the wake of the Napster-led peer-to-peer file-sharing movement.
Layoffs.com: A Report on the Internet News Industry
PBS Online NewsHour, January 2001
A Q&A with the PBS Online NewsHour's Media Watch division on the state of online news during the economic downturn. With the index page to the full package.
Requiem to a Dot-Gone
San Jose Mercury News, Jan. 7, 2001
Amid the dot-com carnage, some promising startups are going under — including my employer, iVendor.
Internet journalism and the Starr investigation
January 2000
A detailed look at new media's coverage of the Clinton-Lewinsky matter. This five-part 10,000-word research report appears in Thinking Clearly (Columbia University Press, 2003), a textbook on journalism case studies, in use in college classrooms.
Citizens as budding reporters and editors
American Journalism Review, July 1999
Seniors and teenagers bring their personal experiences to Web publishing.
Conveying the war in Kosovo in human terms
American Journalism Review, June 1999
The Internet has provided an alternative channel that offers deeper coverage, more interactivity and, most significantly, greater diversity of voices and viewpoints during the war in Kosovo.
Attracting young talent to Web journalism
American Journalism Review, May 1999
Young journalists today face a choice: Work at the online division of an old media company, or dive headlong into cyberspace to work for an Internet startup.
Protecting online privacy
American Journalism Review, April 1999
Online publications ought to post a privacy policy, whether or not they use smart ads and other targeting techniques.
Online News: An Evolving Medium
PBS Online NewsHour, April 26, 1999
A Q&A with the PBS Online NewsHour's Media Watch division on recent advances in the online news industry. With the index page to the full package.
The confidence game
The Industry Standard, March 1999
Who deserves your trust in e-commerce? How users can size up an online merchant.
Web news makes some noise
American Journalism Review, March 1999
A look at the uses of audio and sound clips in online news publications.
Newsweek arrives on the Web
American Journalism Review, January 1999
An interview with Michael Rogers, editor and general manager of Newsweek.com, who discusses his company's new media strategy.
Personalization: The missing ingredient in online news
American Journalism Review, December 1998
An overview of the three major trends emerging in personalized news.
Choose your bedmates wisely
Industry Standard, December 1998
Potential conflicts of interest abound in Wired News' proposed co-branding deal with Charles Schwab and Microsoft's alliance with Merrill Lynch.
Microsoft Sidewalk turns toward commerce
American Journalism Review, November 1998
Online publications can learn much from Microsoft's city guide. But in its new incarnation, journalism is almost an afterthought.
Digital footprints
Salon magazine and the Washington Post, November 1998
If you've ever ventured onto the Internet, your past may follow you in ways you'd never imagine. Internet Archive founder Brewster Kahle is among those interviewed. Related: The Internet never forgets
Ethics codes: A compact with the reader
American Journalism Review, October 1998
In this age of public mistrust of the media, online publications ought to disclose their standards and values.
When journalism and e-commerce clash
American Journalism Review, September 1998
The life and death of the Asian-American Web site Channel A.
Putting a community online
American Journalism Review, July-August 1998.
Some small papers have had success on the Web by including their readers in the news process.
Salon: The best zine on the Web?
American Journalism Review, June 1998
Article on Salon's savvy blend of new and old media. Is this the future face of journalism on the Net?
The Web: A new channel for investigative journalism
American Journalism Review, June 1998
While the establishment media slept, Salon's reports on the Kenneth Starr investigation quietly ushered in a new era in investigative reporting.
The Internet never forgets
The American Journalism Review, June 1998
How vast search engines have begun collecting and storing digital scraps of our lives — and are storing them in a permanent digital record — for all time. Related: Digital footprints
Keeping online staffers in exile
American Journalism Review, May 1998
Newspapers would be wise to integrate their Web journalists into the heart and soul of their enterprise: the newsroom.
The lessons of Matt Drudge
American Journalism Review, April 1998
In the rush to strike first on the Net, news organizations must not lose their moorings as trusted sources of information.
E-mail fosters a two-way dialogue
American Journalism Review, March 1998
Online newspapers are missing the most fundamental ingredient of the Internet: interactivity.
Video comes to the Web
American Journalism Review, January-February 1998
CNN, the New York Times and APTV have begun experimenting with streaming video to present news clips on the Internet.
Preserving old ethics in a new medium
American Journalism Review, December 1997
Traditional journalism values are the best hope of averting ethical problems in cyberspace.
Breaking into online journalism
American Journalism Review, November 1997
Some tips on how to prepare for a fast-changing field. A lot of the advice here is still relevant today.
News ratings on the Net
American Journalism Review, October 1997
How the push for a "family friendly" Internet nearly led online news organizations to create a licensing system for Web journalism.
Trading accuracy for immediacy?
American Journalism Review, October 1997
Ted Koppel and the Mercury News' Bruce Koon on the dangers Web publications face as they evolve into true news channels. See accompanying interview.
Censorship devices on the Internet
American Journalism Review, September 1997
Unbeknown to the public, filtering programs block out much more than pornography, raising important free speech issues in libraries and schools — and bringing the issue right into the home.
Traveling violations in cyberspace
American Journalism Review, July-August 1997
Newspaper Web sites do an abysmal job with their travel coverage.
The Censor Police
Salon, July 1997
Article quotes Lawrence Lessig and sounds a warning about the possible unintended consequences of adopting the self-rating system known as PICS.
Breaking the news — online
American Journalism Review, June 1997
If they're to remain relevant in the Digital Age, online news organizations must begin to cover the news as it happens.
Net news thinks about push
American Journalism Review, May 1997
How the push technology trend — Pointcast, Marimba and the channel technology of Webcasting — may or may not affect the way we receive the news.
Net Gain
American Journalism Review, November 1996 (cover story)
An overview of the Internet's impact on the news business, including six transformations needed for journalism to adapt to the challenges and opportunities of the Net. It's interesting to look back and see how far online news organizations have come — and how long they still have to go. Wired columnist Jon Katz on "Net Gain": "one of the best, most succinct, most thorough and useful reports yet on how interactivity and online news sites could save mainstream journalism and reconnect the press to its resentful and alienated audience."
Strange Vibrations: An afternoon with a New Age psychic
September 1996
A look at what really happens at a psychic reading. Article in The Skeptical Inquirer, the journal of the Committee for the Scientific Investigation of Claims of the Paranormal, an international organization.
Photographs that lie
The Washington Journalism Review, Boston Globe and The Sacramento Bee, 1988-89
Welcome to journalism's newest ethical nightmare: digital enhancement.
Death of an idealist
Los Angeles Herald-Examiner & Sacramento Bee, October 1988
This tribute to political activist and Jerry Brown protege Chuck Linderman was written after J.D. attended Chuck's funeral on a beach in Santa Monica.
Martyrs Day: Witnesses to genocide
Sacramento Bee, April 1988
What historians say about the Armenian genocide. Series: The Armenian genocide: Stories of survival
The forgotten ones
Sacramento Bee, October 1987
The boy who was bought for a silver coin and other compelling personal stories of survival. Series: The Armenian genocide: Stories of survival
Online Journalism Review articles
Citizens media gets richer
September 2005
A look at NowPublic, New West and Bluffington Today, where photos, video and audio are becoming part of the user-generated palette.
The cost of ethics: Influence peddling in the blogosphere
February 2005
As blogging comes of age, what ethical standards should bloggers follow when offered payments or freebies — aka "schwag" — for buzz?
Balancing act: How news portals serve up political stories
September 2004
Google News uses computer algorithms to identify top stories while Yahoo News favors old-fashioned human editors. But do Google's automated search results display an unintended conservative bias?
Transparency begets trust in the blogosphere
July 2004
The openness of blogs could help explain why many readers find them more credible than traditional media. Can mainstream journalists learn from their cutting-edge cousins?
Tools for the info-warrior
May 2004
RSS readers ride to the rescue of heavy news grazers.
Personal video journalism hits the Net
August 2003
A camera, firewire, Internet connection and some gumption are all you need to Webcast.
Participatory journalism puts the reader in the driver's seat
August 2003
A look at an Indian mailing list and other examples of bottom-up media.
What is participatory journalism?
August 2003
A backgrounder on the six different flavors of participatory journalism.
Digital Editions: Friend or Foe to New Media?
June 2003
In some markets, electronic replicas may replace free news sites.
The graphic face of war
March 2003
How photojournalists are covering the war in Iraq.
News that comes to you
January 2003
RSS feeds offer info-junkies a way to take the pulse of hundreds of sites. But will it make people change their Web surfing habits?
Gear for the multimedia newsroom
December 2002
How to meet the practical needs of digital journalists in the field.
Where Net luminaries turn for news
October 2002
Attendees at the PopTech conference — perhaps the vanguard of the wired crowd — send a cautionary signal to mainstream news publications.
Personal storytelling
October 2002
The Center for Digital Storytelling helps people hold up a lens to their own lives to tell the story of others.
When bloggers commit journalism
September 2002
Journalists and bloggers discuss what's ahead for the ever-expanding media ecosystem.
Innovation in the heartland
August 2002
Kansas's CJOnline wins awards — and a growing audience — with its multimedia pizzazz.
Convergence at the OK Corral
July 2002
A look at the converged-news efforts of a broadcast station and newspaper in Oklahoma City.
Mandatory registration on news sites
June 2002
Online newspapers are requiring users to register — but at what cost?
The reinvention of city guides
July 2002
Now that they've grown up, what have city guides become?
News on wheels
May 2002
Telematics, or dashboard computing, offers a new distribution option for news, but don't look for a revolution.
AOL Time Warner: It's Time to Grow Up, Fast
May 2002
The sprawling media empire can't afford to sacrifice journalism on the altar of corporate profits.
Animated cartooning
May 2002
Nearly a decade since the birth of Web publishing, we're still treated to static comics and op-ed cartoons on online news sites. But now a new breed of dazzling Flash cartooning is making inroads.
Why the Wired West still matters
April 2002
Personal media and skeptical, contrarian journalism provide counterweights to the Eastern media establishment's groupthink mindset.
The rise of digital news networks
April 2002
Belo, CanWest's Canada.com, Tribune and Knight Ridder roll out converged Web publishing systems that herald important changes for both online staffs and news consumers.
News on the go
April 2002
A look at the current state of mobile news services, the new generation of converged wireless devices, and what it means for online news organizations.
The new media view from Europe
April 2002
The Old World puts its own stamp on new media. We survey the state of online news in 10 European countries.
Online sports solutions
March 2002
A profile of The Sports Network, a vendor that helps online newspapers provide wide and deep coverage of sporting events,
After the meltdown
March 2002
Now that the worst is over, what's ahead for the online news industry in 2002?
Niches of trust
January 2002
Sketches of three independent consumer-journalism sites that sometimes outshine big media: The Car Place, Theme Park Insider and Consumer World.
Independents Day
December 2001
Profiles of four small and nimble one-person online news operations: Metafilter, IWantMedia, Kuro5hin and KenRadio.com.
Online news on a tightrope
November 2001
A look at the second annual conference of the Online News Association, where the focus was on credibility, inclusiveness — and terrorism.
A scorecard for Net news ethics after 9/11
September 2001
How are online news organizations faring when it comes to ethical behavior on the Web, especially in light of the terrorist attack? A special report.
A news service with a women's agenda
September 2001
Unhappy with the media's coverage of women's issues, a New York nonprofit launches its own newsroom.
Search engines and editorial integrity
July 2001
Is the jig up for honest search results? A look at deceptive search engine practices — and some companies that are resisting the tide.
The wired left awakens
July 2001
Syndicator Alternet.org leads a resurgence of progressive news sites.
How the Net is shaping journalism ethics
July 2001
A look at how online news sites and organizations are faring in the credibility department, compared with their print and broadcast cousins.
Cyberspace's first ombudsman
July 2001
Former LA Times newsman Dan Fisher takes on a new role as reader representative at MSNBC. (Note: His tenure didn't last long.)
News sites get copyright fever
June 2001
The New York Times and other news publications introduce online clearance systems. But are they undermining free speech on the Net in the process?
Synergy and the day of infamy
May 2001
ABCNEWS.com straddles the line with its Pearl Harbor package, and Sam Donaldson admits: "we made a mistake."
Party's over for Web freelancers
April 2002
Two years after the Golden Age of Web Freelancing, we revisit 14 content sites to take the pulse of today's freelance market. It isn't pretty.
Gleaming portal, pauper news site
March 2001
Pulitzer creates an online gateway to St. Louis, one that shortchanges the contributions of the St. Louis Post Dispatch.
Behind closed doors at BabyCenter
March 2001
What's ahead for the recently sold online parenting site as it balances business interests and journalistic credibility. Part of ongoing series on online ethics.
The fuzzy world of sponsored content
March 2001
One online content site struggles with the ethical dilemmas posed by sponsorships on the editorial side. Part of ongoing series on online ethics.
Soul-searching time for online news units
January 2001
The dot-com downturn leads media companies to reassess strategies and investments.
High anxiety, new realities at latimes.com
January 2001
Online staffers at the Los Angeles Times are having a hard time adjusting after the company's merger with Tribune Co. — and unexpected layoffs.
Gut check time for new media
January 2001
The industry adjusts as the focus switches from high concept to hard cash.
Dot-com content sites get creative
January 2001
Inside.com, Salon and others look for new formulas to get them through the rough seas.
Tabloid journalism on the Web takes a hit
January 2001
Numbers never added up for Fox's brand of online news.
Broadband news: Ready for prime time?
December 2000
Peeking in on a conclave of multimedia journalists.
Election coverage from the wired right
November 2000
Peer-to-peer and conservative news sites offer counterbalance to mainstream media.
Yahoo-Murdoch: A marriage made in hell
March 2000
Yahoo should move cautiously in its partnership talks with the News Corp. lest it jeopardize the credibility of Yahoo News.
Clash over exit polls pits new vs. old media
March 2000
A proposal for a middle course in the flap over early publication of election returns on the Web.
Online ethics debate: It's time to move on
March 1999
For Web publications, electronic commerce is here to stay. It's time for critics to accept that reality and get down to the hard work of drawing lines.
Cool Web tools
April 1999
U.S. News and College Edge vie for supremacy in the education space on the Web.
Not good enough, Amazon
March 1999
Amazon's new disclosure policy is a step in the right direction but doesn't go nearly far enough to ensure editorial credibility.
Golden days for Web freelancing
January 1999
The Web has opened up a potentially lucrative market for talented writers. Here are seven sites worth writing for.
Seven more Web wonders
February 1999
Short profiles of seven notable online publications — including pay rates. And a look at a new service that matches online editors with content talent.
Matt Drudge & Larry Flynt: two of a kind
January 1999
Can mainstream journalists resist being dragged through the mud of never-ending sex scandals? With a cybersleaze timeline on how the Clinton paternity story infiltrated the media.
A credibility gap for online news?
December 1998
The Internet Content Coalition drafts an admirable set of guidelines for separating advertising from content. But is it a lost cause?
Online News Association needs to open the doors
December 1998
The newly formed Online News Association is just what Web journalism needs. But it needs to expand its membership to include rank-and-file online journalists.
Interviews
Also see Engadget interviews above.
Marvin Kalb
American Journalism Review, April 1998
Interview: The director of the Shorenstein Center at Harvard and former CBS and NBC newsman decries the news media's feeding frenzy over the Clinton-Lewinsky matter and the effect that Matt Drudge has had on news coverage. Accompaniment to American Journalism Review piece Slow down and make sure it's right. Related: Committee of Concerned Journalists: Teaching Notes: Internet's Role in the Clinton-Lewinsky Scandal.
Ted Koppel
American Journalism Review, May 1997
Interview: In his first interview about the Internet, the news veteran has some suggestions for online journalists who believe the rules of news need to be completely rewritten for the Web. Q&A is accompaniment to my AJR column.
John Perry Barlow
American Journalism Review, May 1996
Interview: The co-founder of the Electronic Frontier Foundation and theoretical architect for the cyberspace community discusses the media's role on the Net and suggests that people want to bypass the mass media. For AJR cover story, Net Gain.
James Fallows
American Journalism Review, May 1996
Interview: The Net will transform, not displace, traditional media, says the noted press critic and former editor-in-chief of U.S. News & World Report. For AJR cover story, Net Gain..
Nicholas Negroponte
American Journalism Review, March 1995
Interview: The guru of the Digital Age looks into his crystal ball and discourses on McLuhan, electronic neighbors and square dancing.
Jaron Lanier
Pop!Tech blog, October 1992
Interview: The scientist, artist and deep thinker who coined the term "virtual reality" talks about art, science and the clampdown on users' digital rights.
Howard Rheingold
Pop!Tech blog, September 1992
Interview: A lively talk with the Internet pioneer, cyber-communities guru and author of the groundbreaking new book, "Smart Mobs."
Bruce Damer
Pop!Tech blog, September 1992
Interview: One of the early pioneers in the field of avatars discusses virtual cocktail parties and interaction in cyberspace.
California Gov. George Deukmejian
Sacramento Bee, Ararat magazine, April 1988
Interview: During his tenure as governor of California, George Deukmejian discusses the Armenian genocide and how it still affects his people's spirit. This was one of the few one-on-one in-person interviews Deukmejian granted during his governorship. Series: The Armenian genocide: Stories of survival
Parenting articles
Birth of a father
BabyCenter, June 1999
A first-person account of my moment of truth in the delivery room.
Childbirth class cheat sheet
BabyCenter, March 1999
A handy guide for new dads.
Couples baby showers
BabyCenter, April 1999
Guys should be part of the celebration.
Bobby: A New Life
BabyCenter, October 1999 to October 2000
A 52-part weekly journal tracking my son's first year.JD Lasica is co-founder of the cruise discovery engine Cruiseable. See his About page, contact JD or follow him on Twitter or Google Plus.